Published by Manila Bulletin (February 10, 2015)
There's an old saying that goes: the way to a man's heart is through his stomach. It means that cooking food for a man will pave the way to win his affections. But I would like to literally interpret this as what you eat could directly affect your heart.
It is essential to practice moderation in food intake but it is also vital for your heart's health to be mindful of food substances that could be harmful when taken in excess.
TO PROTECT YOUR HEART, GO EASY ON THE FOLLOWING:
FAT
Not all fats were created equal. Saturated fats from fatty meats, poultry with skin, butter, whole milk, cheese, coconut, and palm oil can increase your risk of developing heart diseases by elevating your cholesterol levels. Unsaturated fat has less damaging effects. It's abundant in walnut, fish, avocado, olives, olive oil, corn oil, safflower oil, canola oil, and peanut oil.
CHOLESTEROL
A fat-like substance that is produced in the body from cell membranes and hormones, cholesterol is not all that bad. But having an excess will surely be detrimental to your health. It can build plaques in your arteries which could lead to a fatal heart attack. Therefore, we need to limit foods that are high in cholesterol like organ meats, fatty meat, animal fat, whole milk dairy products, and egg yolks.
SODIUM
Sodium is an essential electrolyte that balances fluids in the body. A maximum of one teaspoon of salt per day is recommended by the American Heart Association to prevent increase in blood pressure. Avoid adding table salt and condiments which contain sodium during meal times. Use herbs and spices to flavor dishes.
Meanwhile, here are my favorite flavorful, heart healthy recipes from the American Heart Association's Meals in Minutes Cookbook.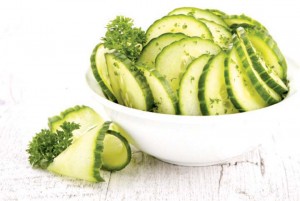 GREEK CUCUMBER SALAD
Serves four (1/2 cup per serving)
39 Calories per serving
Ingredients:
1 medium to large cucumber
1 cup fat-free or low-fat plain yogurt or nonfat or light sour
cream
1/4 cup fresh mint or 1 tablespoon dried
1/2 to 1 teaspoon minced garlic or 1 to 2 medium cloves,
chopped
1/8 to 1/4 teaspoon salt
Procedure:
Peel cucumber if desired. Cut in half lengthwise. Scoop out seeds with a spoon discard seeds. Slice cucumber into thin crescents.
In a medium bowl, stir together all ingredients. Serve immediately or cover and refrigerate until needed.
Author's note:
You can also use garlic powder to flavor.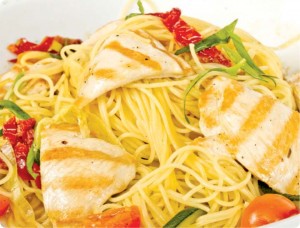 SUN-DRIED TOMATO PESTO CHICKEN AND PASTA
Serves four (three ounces chicken and one cup pasta per serving)
319 Calories per serving
Ingredients:
4 boneless, skinless chicken
breast halves, remove visible
fat
Vegetable oil spray
1/4 cup bottled sun-dried
tomato pesto
2 tablespoons water
2 tablespoons dry red wine
(regular or nonalcoholic)
1 tablespoon balsamic vinegar
1 tablespoon plus 1 1/2
teaspoon dried basil,
crumbled
1/4 teaspoon salt
9 ounces refrigerated fat-free
angel hair pasta
Procedure:
Boil water for pasta. Rinse chicken and pat dry with paper towels.
Heat a large nonstick skillet over medium-high heat. Remove from heat and spray with vegetable oil spray. Return to heat and cook chicken for two minutes on each side.
In a small mixing bowl, whisk together remaining ingredients except pasta. Pour over chicken. Reduce heat and simmer, cover for six to eight minutes, or until chicken is no longer pink in the center.
When water for pasta comes to boil, cook pasta using package direction, omitting salt and oil; don't overcook. Drain well.
To serve, place pasta on serving platter, arrange chicken on top, spoon sauce all over.
Author's note:
You can also use whole grain pasta and fresh tomatoes with homemade pesto sauce.